Felgo
It allows you to accelerate Qt development and improve efficiency with Qt tools and 200+ APIs. Felgo, an official Qt Technology Partner.
With Felgo you get:
Hot Code Reloading of Qt Applications for real-time testing on multiple screens and devices
200+ APIs for faster Qt development

Continuous Integration & Deployment (CI/CD) for your Qt project to run automated builds and improve your application's quality and stability

Many examples and demos for UI/UX best practices on Mobile, Desktop and Embedded

Save 20-80 hours per developer/month and up to 92% code with Felgo APIs and tools

What Customers are saying about Felgo
"If I only knew about Felgo before! It would have saved us about 50% of the development time compared to plain Qt, and we would have been able to focus on the app itself, instead of recreating problem solutions that are already provided by Felgo, and that are not unique or specific for our app. So, please: Don't make the same mistakes, use Felgo! Just as we will, from now on."
Oliver Kuss

"Using Felgo as a front-end with simple off the shelf components, QML for custom visual components and the entirety of Qt and C++ as a back-end makes even the most difficult apps easy to build."
Fayzan Ahmed

"I am using Felgo Live code reloading and my feedback is.. WOW! It is SO much easier!! So fast! I've several devices connected at once and it's worked perfectly. This is already speeding up my development massively."
Darren Brown

200+ APIs on Top of Qt
The Felgo APIs allow you to develop faster by using already existing solutions for your requirements.
Responsive layout components for phone, tablet, Desktop & Embedded to support multiple screen sizes

Advanced UI controls, animations and native navigation cross-platform

Push Notifications

Density independence support

Display Cutout & Notch support

iOS, Android & Generic Style

Advanced Theming and styling options

File handling from QML

Rapid data management and model/view handling in C++ with instant access from QML

Advanced Multimedia components (Youtube player, ImagePicker, Video with Alpha Channel)

AR (Augmented Reality) APIs

AI & ML APIs via TensorFlow and TensorFlow Lite

Advanced REST networking APIs

Native dialogs and features

Firebase (User Authentication, Realtime Database, Cloud Storage)

Facebook

Ads & in-app purchases (subscriptions)

Analytics / Telemetry components (Google Analytics, Firebase Analytics, Amplitude)

Crash Reporting component to find and fix crash logs and stack traces

and many more

Felgo Live Code Reloading
Accelerate your development speed with live code reloading: Hot Reload applies changes in your source code without losing the state of your application. If you are currently working on a sub-page, you will not have to navigate back to it after every change, you will stay exactly where you are in your app.
Apply source code changes without losing the application state
Instant reload of QML & JS code. Persisted state.

Simultaneous testing on multiple devices

Save hours on time-consuming deployment

Simulate platforms at runtime

Develop for iOS from Windows and Linux

Deploy OTA updates of your live application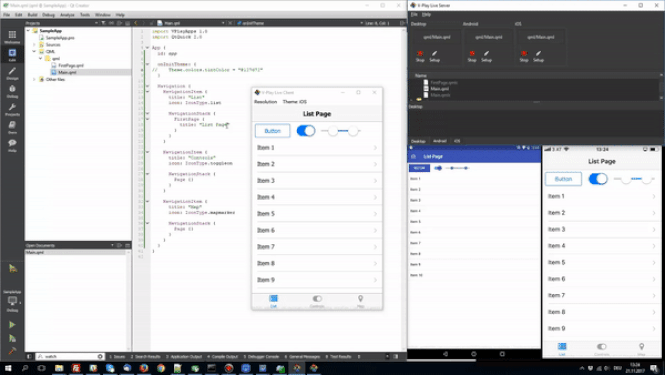 Felgo Cloud Builds
Automate your workflows to save precious time.
Exclusive CI/CD for Qt and Felgo projects

Automated builds for mobile, desktop & embedded

Integrate with your existing CI/CD

Cut time for setup & maintenance of tools, Qt versions & dependencies

Cut time to build updates & test versions

Integrate with Git/SVN

Hosted by Felgo or on-premise

Felgo Cloud Services Backend & Frontend
User authentication via Email, Facebook, Google

Friend management, user search

QML UI, fully styleable

Gamification (achievements, leaderboards)

Chat & push notifications

Cloud data storage

Realtime data sync

Hosted by Felgo or on-premise

Works on mobile, desktop & embedded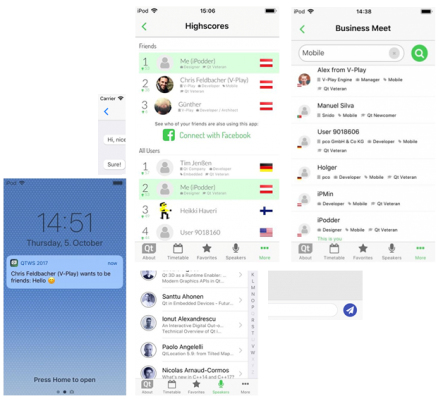 Get Started for Free
Download Felgo for your existing Qt installation

Try it for free!

Free personal license and commercial licenses available

Get more Information about Felgo
Felgo is an official Qt Technology Partner

Customer Reviews
06/17/2020
Raul G.
Mexico
I recommend this product
Great to integrate Felgo with Qt commercial
It's much easier to integrate Felgo with Qt commercial using the marketplace.
05/02/2020
Matheus F.
Brazil
I recommend this product
Great for those who focus on mobile
To be able to have a good experience extending due standard features of Qt itself.
01/03/2020
Marek F.
Poland
I recommend this product
very good, useful extensions and
very good, useful extensions and good support.