Qt LGPL App Template
This template helps you create a 100 % compliant desktop/mobile application using LGPLv3 libraries.
With this template you get:
A qmake sample project template that builds proprietary source code into a static library (.a / .lib), PROTECTING YOUR SOURCE CODE and creates a redistributable project in a .zip file (it does this on every release build).
Release.zip file can be recompiled by any user to exercise their rights over the LGPL 3.0 license.
You can add other LGPL 3.0 library sources to the project that will be added to the redistributable project.
Supports static compilation: you can develop an application with static compilation because users can always easily recompile their application executable.
IOS / Android Compatible: You can create a LGPL compatible mobile app for iOS / Android. On these platforms, users cannot replace LGPL Libraries (an LGPL 3.0 requirement), but they can recompile the mobile app and install it on their own mobile device.
There is the possibility of embedding the release.zip file in the application's own resources, to be able to download it from an "about" dialog.
Multiplatform: the project uses an executable to prepare the release file, which is included statically linked for the Windows 32/64, Linux 64, and macOS platforms. It has been tested on Windows, Linux Ubuntu 20.04, macOS Sierra, and Android
A sample QML "about" dialog is included, to list the licenses used (a requirement of most open source licenses), and to add the download URL of your release.zip file.
Limitations: If you use the QML compiler, your application can only be recompiled with the same minor version of Qt (for example, a Qt 5.15.0 application cannot be linked to another version of Qt, like Qt 5.15.1).
See in action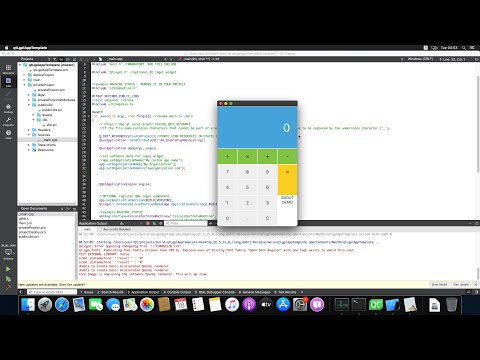 Android App using Qt LGPL App Template in Google Play
About
Miguel Angel Pons Dianiux Innova SL https://www.dianiuxinnova.com qtmarketplace@dianiuxinnova.com
Customer Reviews
04/02/2022
Alfred

Spain
I recommend this product
Easy LGPL
Even using static compilation I can now easily comply with the LGPL. Highly recommended.
04/01/2022
Colton L.

Canada
I recommend this product
There have been several improvements, fixes, and far better support since my original review. Now I'd definitely recommend it. It works properly, gives helpful debug messages, and generates a clean release.zip file in a timely manner. The provided instructions are still minimal, hardcoded, and contain some spelling mistakes. Although enough instructions are provided to cleanly rewrite them. It also does not place the README file in the root folder of the release.zip, which I had to change manually (easy change).
11/07/2020
Heri C.

Indonesia
Give chance to make Potential projects
Hi Dev, Thanks to making this template and available to buy it. I can learn new thing how to organising the qt project to be compliance with LGPL v3 which is open the opportunity to me to make new world wide app for mobile application without too much worry about disclosing source code. But the documentation still need to improving, maybe need make pdf document. Any contact/email support for this product?